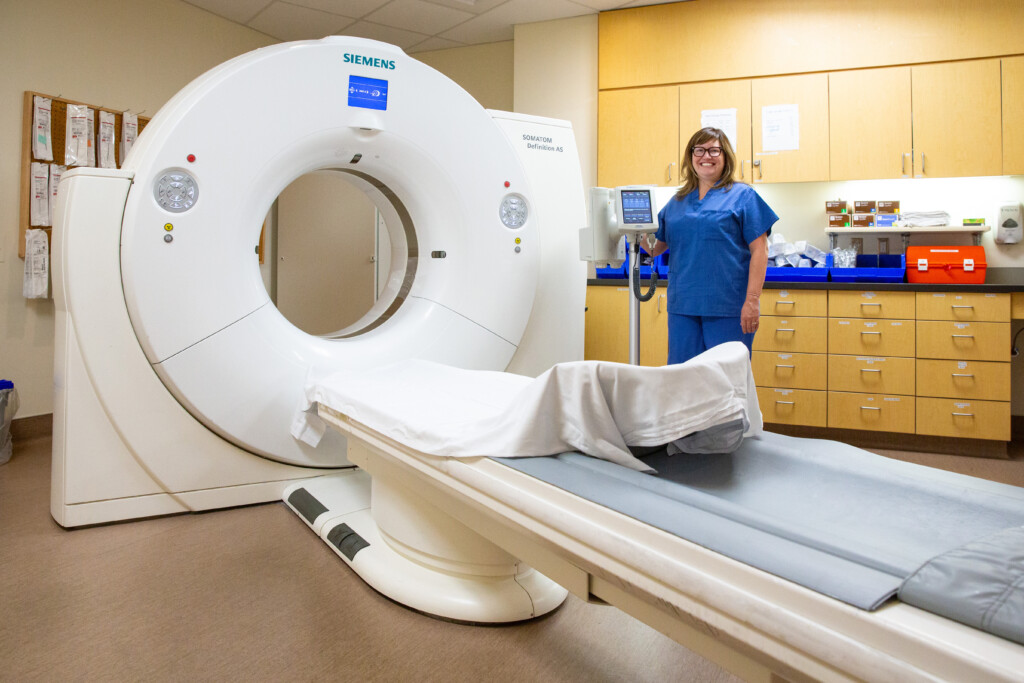 Island Health's Diagnostic Imaging (DI) team launched several new technologies over the last few weeks after receiving funds from the Island Health Foundation's Heartstrings Raise-the-Paddle Appeal at the 20th Annual Gala of Hope in April. Thanks to the generous support of guests at the Gala, $328,000 was raised specifically for diagnostic technologies, including upgrades to mammography, MRI monitors and portable X-ray detectors.
Highest Resolution in Mammography: Now at Island Health
With Foundation support, Island Health has upgraded their mammography technology, Hologic® Clarity HD+, to offer the latest technology and highest resolution. These new technologies are able to:
Reveal more details through sharper, smoother images
Reveal greater details in the breast such as calcifications and lesions, while reducing radiation dose and time spent under compression for patients
Expedite read times by the radiology team
These advances in technology will benefit the patient and the provider, accelerating detection of breast cancers and improving the precision of screening mammograms. Not only are we proud to offer the latest technology to our community, but we've worked hard to make doing the right thing for your health, the easy thing. Island Health offers convenient evening and weekend screening mammography appointments, easily scheduled through the myIslandHealth patient portal.
The American College of Radiology recommends annual screening mammograms beginning at age 40 for women of average risk of breast cancer, and high-risk women are advised to have an assessment by age 25 to determine if screening earlier than age 40 is recommended. Every health situation is unique, so please talk with your doctor about what is right for you.
MRI Monitor Keeps Care Close to Home
Island Health cares for critically ill and injured patients whose swift and accurate diagnosis is vital in crafting the correct treatment plan. It is very common for Island Health physicians to order an MRI for their high-acuity patients, but in order to ensure the stability of the patient's health, certain vital signs must be monitored throughout their diagnostic imaging scan.
Island Health Foundation Gala funds helped secure a new MRI vitals monitor. With this equipment, Island Health is now able to continue quality care for our patients that are acutely ill and need continuous monitoring, and require an MRI. In the past, patients requiring this type of procedure would need to be transferred to another facility. This new monitor is lightweight and portable, able to fit onto an IV pole or used as a bed-rail hook, enabling swift transport in an acute situation.
The portable MRI monitor is a new innovation that will increase workflow, creating a more efficient environment. Most importantly, this technology allows Island Health to keep care close to home for critical patients so they can be assessed at Island Health, rather than transported to a different facility.
Latest X-ray Technology is Safer for Patients
Foundation funds and a special donation by HF Sinclair also helped secure a new portable X-ray detector. This upgrade is more efficient, offering reduced radiation exposure to patients and better image resolution for a more precise diagnosis.
Additionally, our upgraded technology can assist with detecting foreign bodies. If your child has ever swallowed a potentially harmful item, you know how stressful it can be. Using AI-software, the Smart DSI Shimadzu X-ray platform can identify foreign bodies to help providers make informed and efficient treatment decisions, whether in the Emergency Department or the Operating Room.
More DI Advancements: Image Sharing Made Simple
The Diagnostic Imaging team has been working hard to make sharing images between facilities more seamless for our patients and providers. Island Health now has a new technology that streamlines and improves access to and sharing of patient images in a digital format, reducing the need for mailing or hand-carrying disks. Nuance PowerShare Image Sharing will increase access to images and expedite the process for providers and patients to receive diagnostic images such as X-rays and MRIs from Island Health. Information will be shared to patients on how to register for a Powershare account.
Now Available: Low-dose Lung Cancer Screening
Island Health now offers low-dose CT (LDCT) lung screenings to enable early detection of lung cancer, before symptoms may occur. The screening includes a low-dose CAT scan to identify small nodules or other abnormalities in your lungs. Read more about Island Health's low-dose lung cancer screening and whether you should speak to your doctor about a referral.
Better Care through Improved Technology
Island Health is grateful to the Island Health Foundation to help bring the latest and greatest technologies to our community. As a public hospital district, our commitment is to provide the best care for those we serve, and we always strive to do so in a timely, efficient manner. We often have same-day or same-week appointments available, with convenient evening and weekend appointments. The award-winning care Island Health provides is made possible thanks to the hard work of our staff and the generous support of our community.
If you or someone you know is in need of a diagnostic test, such as a mammogram, X-ray, CT Scan, MRI, ultrasound or DEXA scan, call us today at 360.299.1315 or visit islandhealth.org/di for more details. Screening mammograms and DEXA body comp exams are now easily scheduled via the myIslandHealth patient portal.
---
Published on September 19, 2023