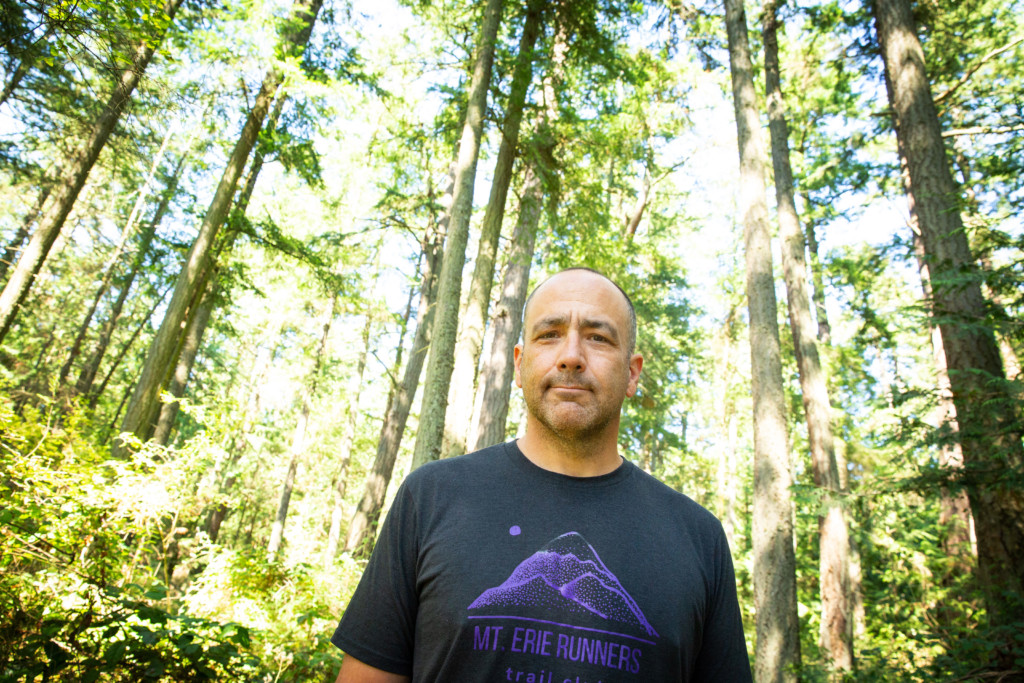 Eric is back up and running with help from Dr. Melody
The care you find at Island Health is not so much a continuum or linear experience as it is three-dimensional. Our teams collaborate behind the scenes, with each other and with you, taking a 360 degree approach to ensure you feel heard and valued and to ensure we're the best partner to our patients. The following patient testimonial illustrates our dedication to take care of you every step of the way.
It was dinnertime, and Eric Mithen had just finished feeding his twin boys when he started getting abdominal cramps. The pain worsened exponentially, so he called his wife at work and told her something was really wrong. By the time she got home, he was rolling on the floor, suppressing screams. This happened in a span of 30 minutes.
Mithen says the one mile drive to Island Health was excruciating and interminable. But from the moment he arrived in the Emergency Department (ED), he says he felt a peace of mind.
In triage, Mithen received pain medication and was led to Diagnostic Imaging for a CT scan. He recalls the wonderful kindness of his nurse.
At some point after the scan, Mithen remembers hearing words about having to stay overnight. He was told he had an inexplicable intestinal blockage and would need surgery as soon as possible.
"All I could think about was a race I had coming up in a few days that I'd been training for. I remember asking if I could still run it," he said.
Dr. Kieran Melody came in to explain the surgery and what to expect. Mithen says he felt immediately comforted. Everyone from the pre-op nurse to the anesthesiologist instilled a sense of confidence that helped Mithen feel well taken care of.
The same pre-op nurse was there when Mithen awoke in the recovery room after surgery. He recalls a tender moment when she stood at the doorway and pulled her mask down to prove she was smiling. It meant a lot.
Mithen found out that his small intestine had twisted and that the blockage had cut off blood circulation causing a section of it to necrose (start dying). Melody removed the section of compromised bowel and reconnected the intestine to address the problem.
It was 7 p.m. on a Tuesday when Mithen arrived at the ED. By 9 p.m. he was in surgery, and by 11 p.m. he was in the recovery room. He says he has spent a fair amount of time in hospitals and emergency departments, including several at large hospitals on the east coast, and has never been more impressed than by the teamwork at Island Health.
"The nurses, the cleaning staff, and the chef—everyone—was courteous and eager to make sure my needs were met," he said. "And, no matter what chaos was happening around them, particularly in the ED, the staff kept their cool at all times, which helped me tremendously."
At his follow-up appointment with Melody, Mithen thanked the surgeon for saving his life. Melody accepted the expression of gratitude with humility and acknowledged the great team he works with.
Mithen continues to feel extremely lucky and thankful. He's even begun running again and completed a marathon four months later.
"My level of gratitude is through the roof. I can't really gauge how grateful I am for the level of expertise and care I received." –Eric Mithen, Island Surgeons patient
Kieran Melody, MD, FACS is a General Surgeon with Island Surgeons. He obtained his medical degree at the University of California and resides in Anacortes with his wife and children. Dr. Melody and the Island Surgeons team provide a wide range of surgical procedures from breast and laparoscopic surgery services to surgical needs related to the colon, rectum, thyroid, skin and more.